---
Recreational property prices across Canada are expected to decline over the coming year as economic uncertainty and dwindling supply dampen demand for recreational properties.
According to a new report from Royal LePage, the aggregate price of a single-family home in recreational regions across the country is expected to fall to $592,005 in 2023, a 4.5% year-over-year drop.
On a local level, Quebec is expected to see the largest price decline, at 8.0%, while Alberta will reverse the trend with a 0.5% price increase. Prices in Ontario's recreational market will fall 5.0%, they'll dip 2.0% in British Columbia, and the Prairies and Atlantic Canada will both see 3.0% price declines.
The "modest" national decline follows two years of double-digit gains -- prices increased 26.6% year-over-year in 2021, and were up 11.7% annually in 2022. When broken down by housing type, the aggregate price of a single-family waterfront property jumped 9.5% annually in 2022, to $736,900, while the aggregate price of a condo in recreational markets rose 16.6% year-over-year to $432K.
Despite the impending dip, Royal LePage expects that the national aggregate price of a single-family recreational property will remain roughly 32% above 2020 levels.
"After two years of relentless year-round competition, Canada's recreational property markets have slowed and returned to traditional seasonal sales patterns," said Phil Soper, president and CEO of Royal LePage, in the real estate agency's 2023 Spring Recreational Property Report.
"While interest rate hikes have less of an impact on the recreational market than homes in urban settings, because families typically put more money down and borrow less, general consumer inflation combined with a severe lack of inventory has dampened sales activity. Buyers who are active in today's market appear willing to wait for the right property -- a sharp contrast to what we experienced during the pandemic."
While Quebec's recreational market is expected to see the largest price decline in 2023, the province experienced one of the biggest jumps from 2021 to 2022, at 16.1%. Only Atlantic Canada saw a more significant increase, with prices rising 17.2% annually last year. The Prairies posted a 6.0% year-over-year increase in 2022, the smallest of any province.
However, at $271,300, the latter enjoys the lowest aggregate price of a single-family home across Canada's recreational markets. Meanwhile, the highest aggregate price can be found in Alberta. At $1,165,500, the figure is heavily influenced by the Canmore market, which, due to its proximity to Banff National Park, contains a significant number of luxury properties.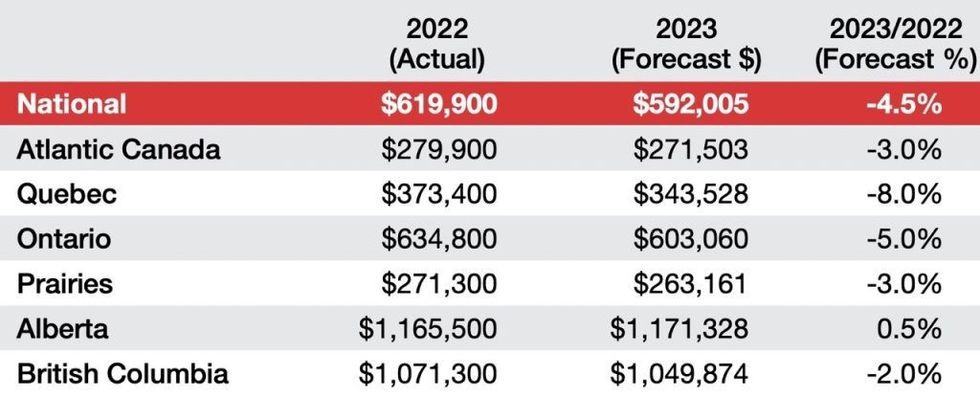 Royal LePage
Royal LePage's Recreational Property Report is based on forecasts and figures from 50 markets, as well as a survey of more than 200 brokers and sales representatives.
Fifty-seven percent of respondents to the survey reported less inventory in 2023 compared to a year prior, while 51% noticed a decline in demand. Compared to the pre-pandemic market, 65% thought supply had dropped, while 38% believed demand had increased.
Despite the renewed push to have employees return to the office, 56% of those surveyed reported that the trend of homeowners moving back to urban and suburban areas was not a common occurrence in their market, while 28% said it was somewhat common.
For those that do have to make a return to city life, even part time, the long commute poses a challenge, Soper points out.
"During the pandemic... families flocked to recreational regions to put extra space between themselves and their neighbours and to take advantage of nature," Soper said.
"For many, living in cottage country full-time has lost its romantic shine, meaning we are back to viewing the cottage, cabin, and chalet as a weekend and summer escape from urban living."
Real Estate News