As its signage looms over Yonge Street, the Brass Rail Tavern certainly makes an impression. But is that impression one for Toronto's history books? Heritage experts argue that is it.
Just a few weeks ago, the Toronto Preservation Board adopted a Notice of Intention to Designate the site of the Brass Rail Tavern — an adult entertainment club located at 699 Yonge Street — under the Ontario Heritage Act.
---
The three-storey brick row building the Brass Rail is located within was constructed in 1887 and has been listed on the City's Heritage Register since March 2016, according to a report that will go to the City's planning committee later this month.
Diane Chin, Chair of the Board of Directors for the Architectural Conservancy Ontario, says there are "strong" grounds for designating the property, as peculiar as this particular case may seem at first blush.

Chin explains that the property checks off two important boxes. First, it has clear contextual value, she says, noting that historians believe that designating the property is a way to celebrate Toronto's adult entertainment and sex-related industry. Second, the property has clear architectural value, touting Romanesque style architecture that dates back to the 1860s and represents "a period when historic Yonge's commercial main street character was established and flourished," according to study by ERA Architects.
"All aspects of Toronto's history are important and Yonge Street's story needs to be remembered for what it was, not just for what some people would have wanted it to be," says Chin. "We have lost way too many buildings already. I am currently thinking of the sad loss of Stollery's at the corner of Yonge and Bloor."
She adds that designating the Brass Rail is indicative of the heritage community's increasing desire to celebrate more than just "pretty colonial buildings."
"We believe that often the humble sites have stories to tell that are just as important as the Casa Lomas of the city. Not only that, but landscapes that are significant to Indigenous and BIPOC communities need to be designated in order to be protected."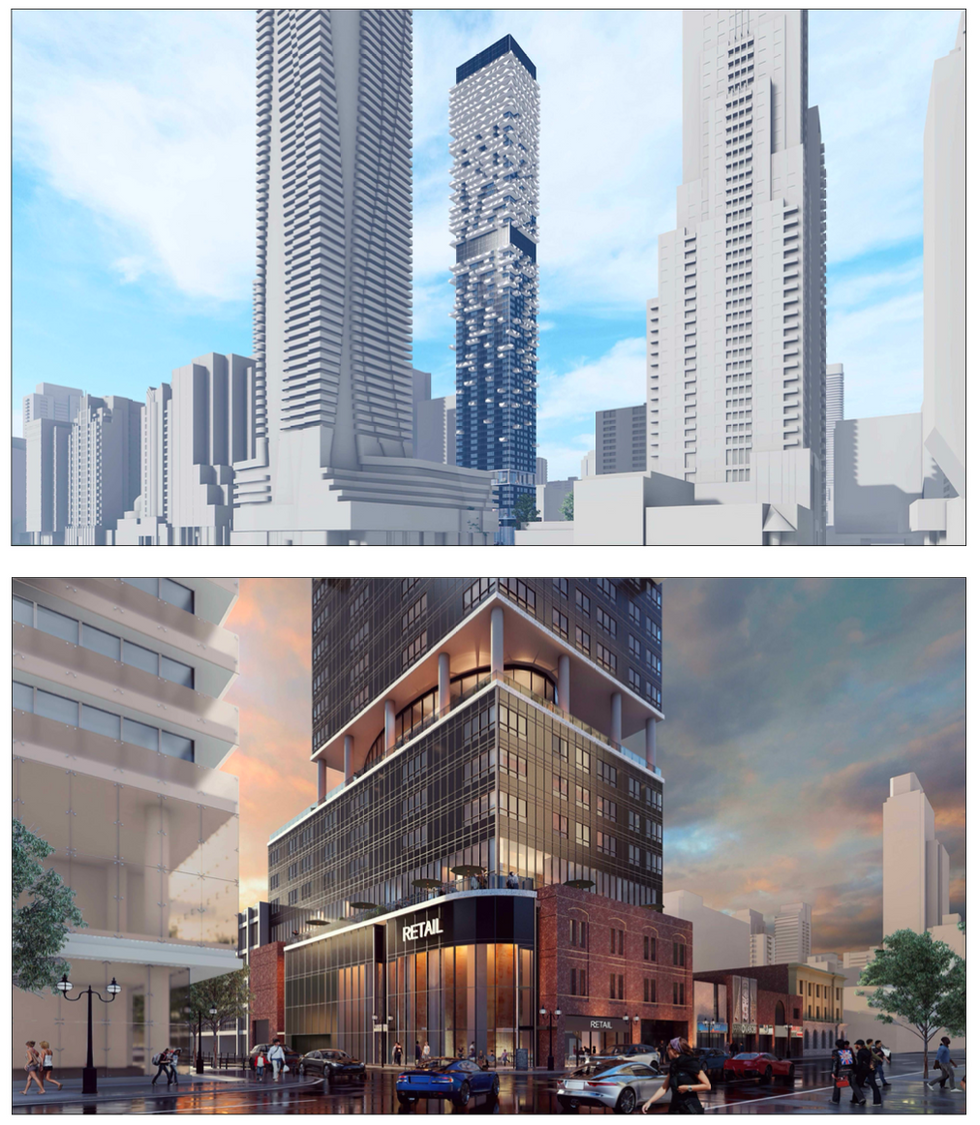 Proposed 64-storey tower includes the retention of the west facade of the existing buildings at 699-705 Yonge Street (DIALOG)
Although a 64-storey tower with over 500 condo units has been proposed for the site of the Brass Rail — a development application from Concord Adex filed back in 2022 is currently awaiting the City's go-ahead — Chin says that, in this case, housing and heritage can, and should, go hand-in-hand.
"We do not believe that buildings should be stuck in the past, and there are many examples of buildings being repurposed to fit modern needs," she says.
Chin points to the Coxwell Stables — it was designed in 1981 and has since been redeveloped into affordable housing units — pointing out that repurposing the historic property rather than demolishing it was not only an eco-friendly choice, but an economical one too, with the redevelopment cost per unit coming in at less than $100,000, which she notes is "well below" what it would have costed to construct those same units new.
Real Estate News