The average rent for condominium and rental apartments has dropped in nine out of 10 Toronto neighbourhoods analyzed, according to a new national rent report.
Based on data from Q2 of 2020, the Toronto and GTA Rent Report from TorontoRentals.com and Bullpen Research & Consulting, shows how the new numbers compare to average rent prices in the same neighbourhoods, during the same time period last year.
---
The report breaks down the averages in 10 prominent Toronto neighbourhoods, as well as select regions across the GTA.
In The Annex, for example, there has been a 10% decrease in average rent since this time last year -- the same that's been seen in the Bay Street Corridor and the Waterfront Communities - The Island neighbourhood. In Little Portugal, the average has gone down 11%.
The Church-Yonge Corridor, Mount Pleasant West, and Niagara neighbourhoods have experienced an 8% decrease, while South Parkdale has seen a 12% dive and in Moss Park, 14%.
READ: Why Are Tenant Advocates So Afraid of Ontario's Bill 184?
In the report, North St. James Town proved to be an anomaly, where rents were up 10% annually. The neighbourhood was reportedly boosted by an increase in the number of listenings on TorontoRentals.com, located at the new high-end, purpose-built rental The Selby.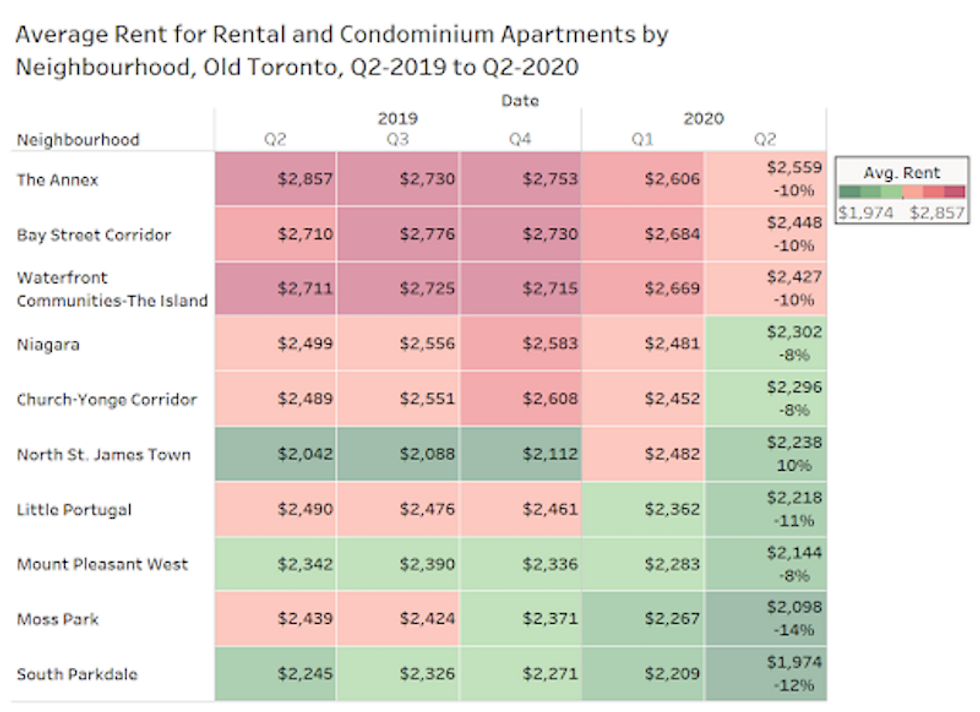 Broadening the scope further out from the downtown core, the report says June saw average monthly rent down, year over year, in North York and Markham by 11%; Mississauga by 10%; Etobicoke and East York by 4%; Vaughan and Brampton by 1%; and the former City of Toronto and York by 8%.
Scarborough was reported to show an increase of 1%.
For the seventh month in a row, average monthly rent in the GTA declined as a whole, reaching $2,129 in June. The area's average rent is down 1.7% monthly, and 7.3% annually, the report states.
And it's not just region that is impacting shifts in average rent prices -- the type of property at hand plays a role too.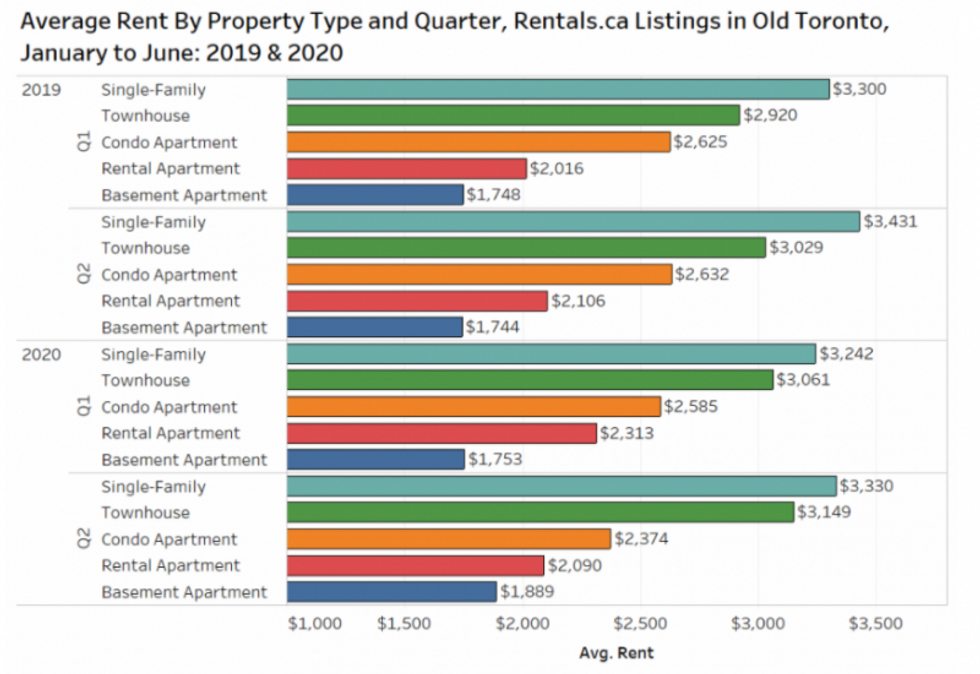 Torontorentals.ca
While many properties across the GTA are seeing a similar downward trend, not all are. Lease rates for rental apartments grew month over month from $1,922 to $2,047 -- a 6.5% increase. And, the average monthly rent has come in above the June 2019 level by 1.7%. This is after monthly rent was up 15% year over year in January, but dropped to -4% annually in May, according to the report.
"The rental market in the GTA continues to soften, but the average rent for rental apartments increased month over month," said Ben Myers, president of Bullpen Research & Consulting. "This isn't likely due to owners raising rent, but shows that landlords are standing firm on their asking rent, convinced that demand will return in the late summer as every region enters Stage 3 of the reopening."
Condominium apartments didn't see a similar bounce back in June, however, as rents declined 1.4% monthly and 8.7% annually. Within the former City of Toronto specifically, condo apartments were nearly $260 cheaper to rent, per month, during 2020's second quarter than they were during the same time frame last year.
Overall, the average rent for all property types (singles, semis, row, condo apartment, rental apartment and basement apartment) for most of the municipalities and former municipalities was down in May and June of this year compared to the same months in 2019.
As Stage 3 looms and, according to Myers, landlords stand firm on their asking rent, Bill 184 has officially become law in Ontario; the Ford Government says the Bill will protect tenants from evictions. However, tenant advocates say the Bill's changes to the province's Residential Tenancy Act will make it easier for individuals to be ejected from their homes.
Renting