In a world-class city like Toronto, rising housing prices are typically a given.
But, according to a new report from Zoocasa, the annual rise of those prices can equal the equivalent of a median (after-tax) salary for many people. The report, which considered median home prices against after-tax incomes, looked at both the City of Toronto and seven more regions in the GTA.
---
READ: Burlington, Mississauga And Brampton Home Prices
Predictably, the City of Toronto showed the greatest rise in housing prices, with the increase in price nearly amounting to a full after-tax income for a calendar year. Specifically, the City of Toronto saw median home prices rise to $720,000, a leap that amounts to $55,800, or an 8% increase. And when measured against the data from Statistics Canada, that $55,800 jump is almost 94% of the $58,264 median after-tax income for Torontonians.
Zoocasa sourced median home prices from the Toronto Real Estate Board and median household incomes from Statistics Canada, and the overall figures suggest that 2019 was a much better year for real estate in these parts. The GTA broke out of the decade-low that the market experienced the year prior, with 87,825 houses being sold, and an annual growth of 12.6%.
But the increase in home prices was much more noticeable for middle-income earners in the mid-sector of the market: this would include purchasers who were on the hunt for a condo, and buyers looking to upgrade.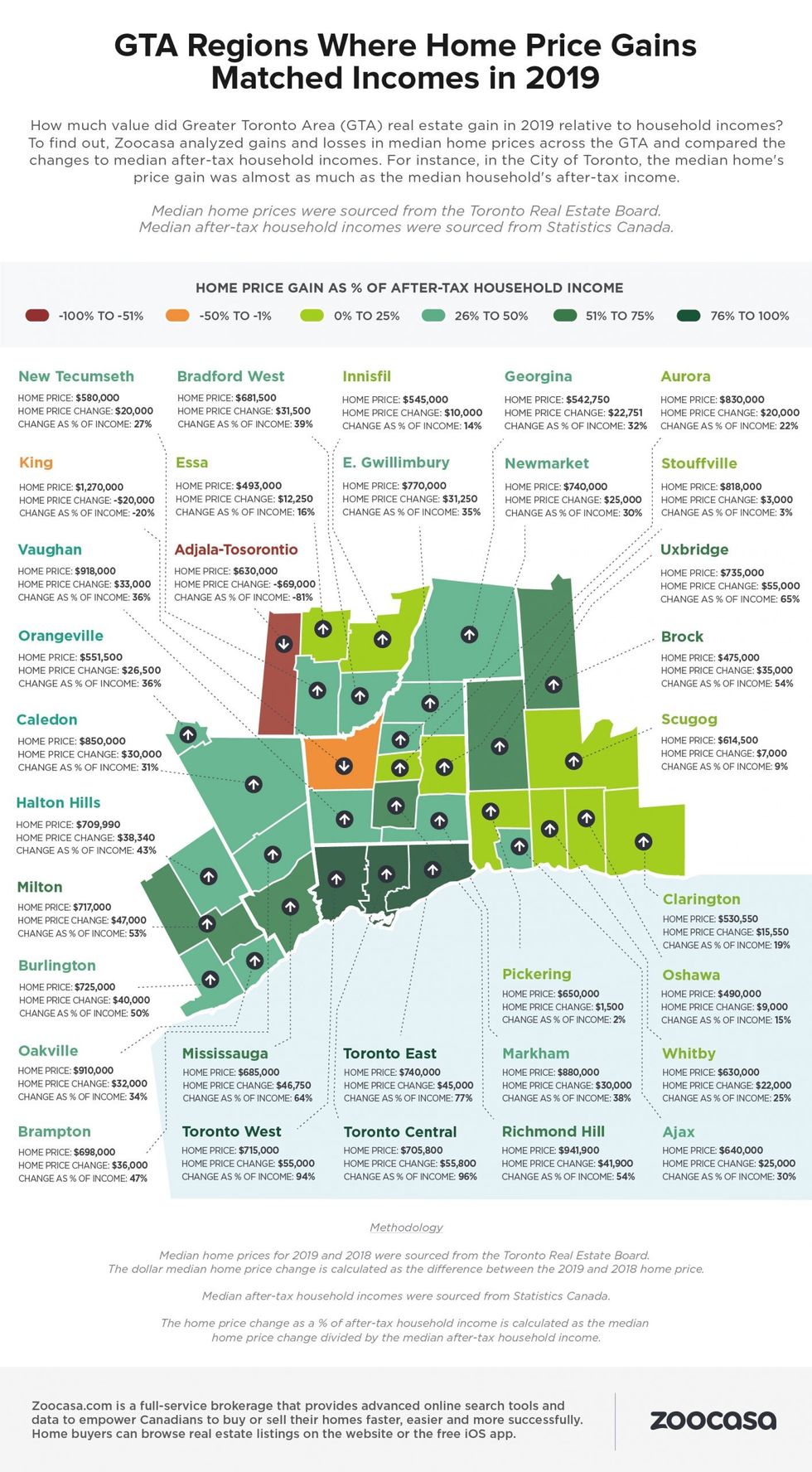 Courtesy Zoocasa
Zoocasa's report was even more comprehensive, though, studying how the increases varied from neighbourhood to neighbourhood. Notably, the central part of Toronto saw the biggest jump, with an increase of $55,800 or 96% of income. At 8%, Toronto West rose slightly less (94% of income) and Toronto East showed a jump of $45,000, or 77% of median income. Meanwhile, the Peel Region saw anywhere from 31% to 64% gains in housing prices to after-tax income values.
Of the 33 townships across seven GTA regions, just two, King and Adjala–Tosorontio, saw their median home prices drop in 2019.

Courtesy of Zoocasa
You can read Zoocasa's full report here.
Personal Finance