---
The penthouse at the upcoming 89 Avenue condo development now holds the title of the priciest unit per-square-foot (psf) in Toronto.  
The home is for sale for a cool $30M. 
Recently, we highlighted the stunning penthouse at The One. At $34.7M for 8,752 square feet, this penthouse worked out to about $4,000 psf (when rounded up to $35M) Now, the anticipated shiny new -- and, inevitably, ultra luxurious -- 6,675 sq. ft penthouse at 89 Avenue comes in at $4,500 psf. 
Naturally, the sleek and sophisticated penthouse come with all the trappings of a 1%-worthy urban lifestyle. Among many notable talking points of the view-filled home is a private pool and an incredible curved staircase. 
A boutique building, 89 Avenue houses only 28 units, with no commercial or hotel space -- elements that only add to its exclusivity factor. Set discreetly off Avenue Road at the site of a former Howard Johnson hotel, the 20-storey landmark building redefines luxury condo living.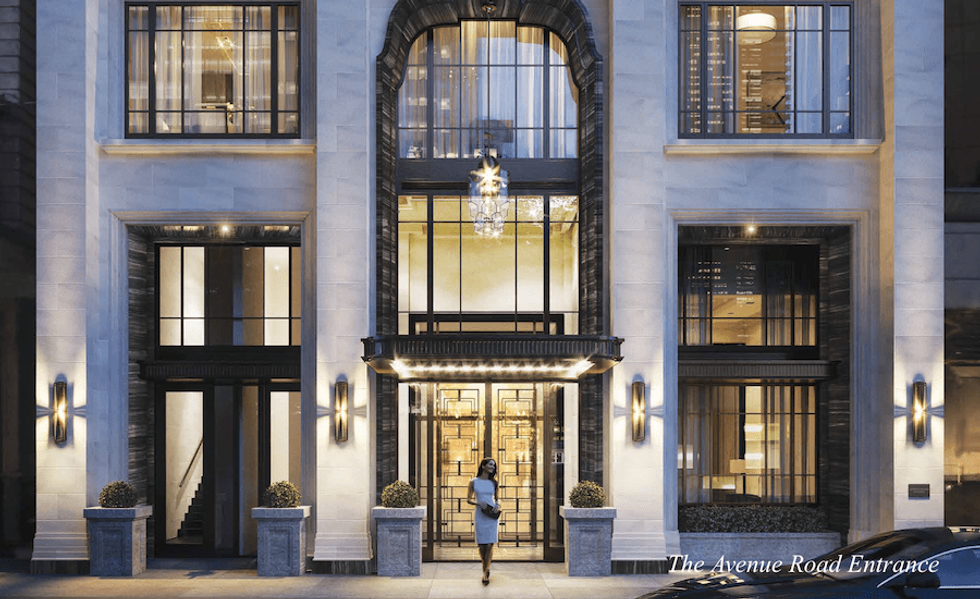 "We're bringing a little bit of Park Avenue in New York to Toronto," says Frank Mazzotta, President of Armour Heights Developments. This is reflected in everything from the light grey Manhattan-inspired Alabama limestone exterior (as opposed to the yellow undertones found in Indiana limestone cladding) to the custom bronze details, canopies, and hand-crafted marble archways that greet residents at the front of the building.  
 "Each suite is custom tailored for each unique client," says Mazzotta. "We sit with each client and custom design a space that reflects their individuality and personality." Clients can customize the number of bedrooms, bathrooms, and moving walls. They can even purchase entire floors to create the increasingly popular mega-unit, should they so desire. 
"We have people buying full floors, half floors, or two-storey duplexes," says Mazzotta. The possibilities are as seemingly endless as the funds in the potential buyers' bank accounts.
"Will you combine units from above and below, or perhaps side to side? Would a more closed kitchen suit your entertaining style? Would you prefer a private library? Are there unique finishes that inspire you? Vintage fireplace mantles? Lustrous lighting for your art collection?," reads the development's website.  
Aside from the customization factor, Mazzotta says that the building's standard offerings and features are incomparable to any other buildings in the city. "We have 10- to 12-foot high ceilings throughout, herringbone floors, sophisticated gas fireplaces, Miele appliance packages, custom-designed kitchens by Brian Gluckstein, La Cornue gas ranges from France, heated floors, humidifiers, power shades, sophisticated sound systems, steam generators, closet organizers -- there's so much," he says.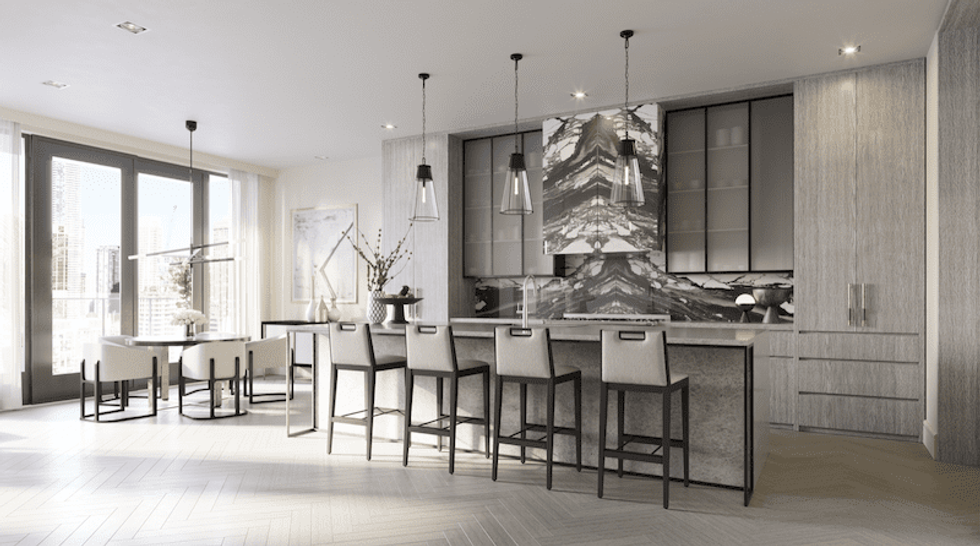 Mazzotta also highlights the building's rooftop VRF (Variable Refrigerant Flow) systems, which use refrigerant to eliminate the need for a standard cooling tower or chillers. Furthermore, residents can avoid brownouts or blackouts, thanks to a generator that will power the entire building -- not just the common areas.

While the building foregoes the hotel component that characterizes many other luxury buildings in Toronto, it features a suite of five-star hotel-worthy amenities. This includes things like a pristine indoor pool with private cabanas and an outdoor terrace, a private dining room and catering kitchen, a top-of-the-line fitness facility, three resident lobbies, and a Residents' Lounge with private wine storage. 
Furthermore, guests are welcomed home by a Porte Cochere with a personal valet service. Adding to the convenience factor, residents will enjoy a menu of luxury services, ranging from in-suite housekeeping, home repairs, and dog walking, to grocery delivery, dining reservations, and personal shopping.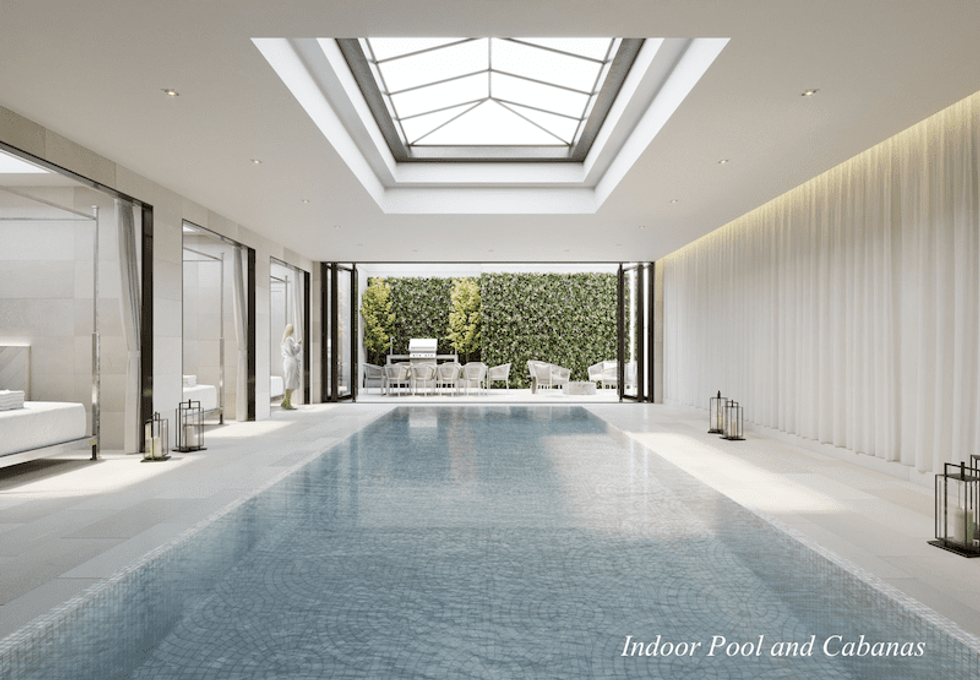 Even the residents' luxury vehicles get the five-star treatment, thanks to a German-made automated parking system -- the first of its kind in Canada. "The valet will take your car and put it on a turntable and it parks it in our three-story underground parking," says Mazzotta. "A palette system will encompass Bentleys, Rolls Royces, and Ferraris and other exotic cars."
89 Avenue is quickly attracting the attention -- and dollars -- of the Rosedale and Forest Hill set of recently retired Baby Boomers looking for opportunities to right size. "They want the lock-and-leave properties for when they leave for four months for the south of France -- they want to know their homes are actually secured," says Mazzotta. "We've taken the discerning tastes of these Boomers to offer them luxurious custom homes in the sky." 
The building is currently over 50% sold and the anticipated completion date is summer/fall 2024. Residences start at $5.5M. 
Future Developments