Toronto
Properties
Sunny Broadview Loft Complete with 'Shoe Wall' Snagged for Under 900K
There's plenty we all miss about the Before Times, and there's no shame in admitting that even the small stuff — like browsing shoe stores at the mall — calls forth major cravings these days.
Perhaps it was this hankering for a taste of the pre-COVID life that inspired a recent buy in the east end, wherein a one-bed loft with a dedicated "shoe wall" went for just under 900K.
Listed for $749,000, 107 – 68 Broadview Avenue sold for $883,000 — another chapter for the "over asking" books that, lately, permeate ever-louder through the world of Toronto real estate.
Although, with its: sunsoaked interior; proximity to downtown and the east end's finest; and its unique design feature that leans into both mall-vibes and provides a home for the day's most important accessory, some could argue that snagging this loft space for under $900K is noteworthy, regardless of the ask price.
Whether an open-concept loft is your style or not, nobody can deny this buyer hit the jackpot on location. Tucked just north of Eastern Avenue, this suite stands a stone's throw from the DVP, with all the delights of Queen Street East just steps from the building's front door.
Access to the downtown core is a breeze thanks to the 501 streetcar route, while even the GO is not too far west, offering easy transport into the GTA at large.
Takeout (and, eventually, dine-in) opportunities are also aplenty in this area, as Impact Kitchen, Saulter Street Brewery, Gusto 501, and sukhoTHAI all wait within just a few minute's walk.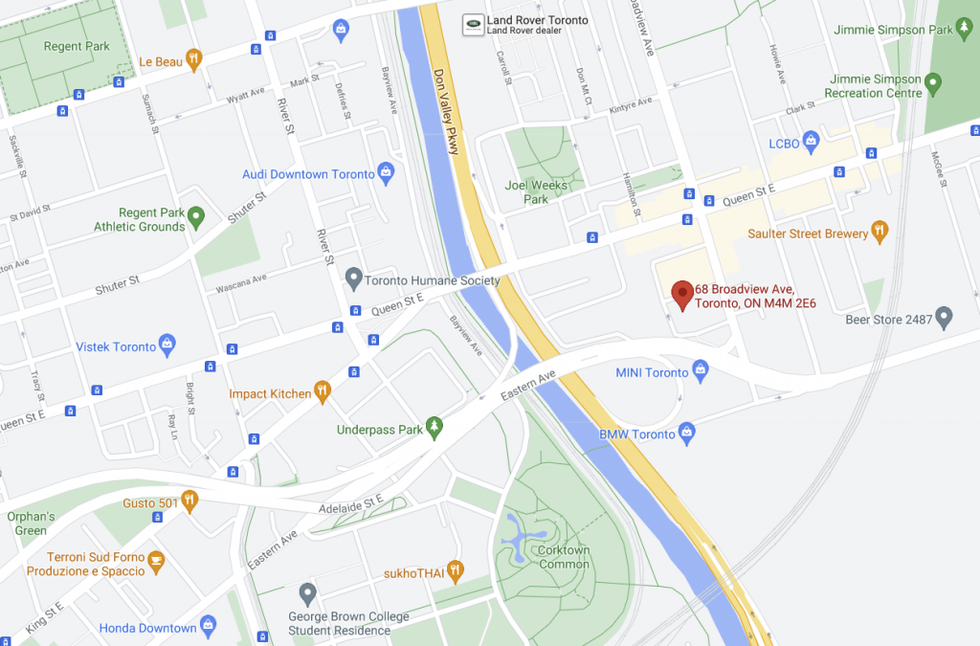 In terms of the design of the suite itself, we'd say the spot is a true urbanite's dream. For an individual — or even a couple who don't mind particularly close quarters — the +700 square-foot space is airy, modern, and features industrial touches that ooze "cool."
Beyond the aforementioned shoe wall, organization-oriented elements of the space include ample kitchen cupboard space and built-in shelving throughout. A full-size bathtub and in-suite washer-dryer combo serve as added bonuses, making the unit that much more homey.
While the loft doesn't come complete with a private balcony, 68 Broadview does have a shared rooftop area, where this spot's new owner will be able to soak up some summer sun. If a grassier vibe is preferred, Corktown Common is just around the corner.
Specs:
Address: 107 – 68 Broadview Avenue
Size: 700 – 799 sq. ft.
List: $749,000
Sold: $883,000
Taxes: $2,699
Maintenance fees: $513 / mo
If you're keen on fully embracing urban living, and purchasing a hard-loft style space has been on your wishlist as of late, take a gander through this recent buy's virtual gallery below. The images may help you decide how you'd decorate your own suite… Footlocker wall vibes and all.