---
Canadian home prices continued to bounce back from bottom in April, new data shows, with monthly gains recorded nationally and in five major markets.
This is according to the Teranet-National Bank Composite House Price Index, which tracks observed or registered home prices across 11 CMAs: Victoria, Vancouver, Calgary, Edmonton, Winnipeg, Hamilton, Toronto, Ottawa-Gatineau, Montreal, Quebec City, and Halifax. All properties that have been sold at least twice are considered in the calculation of the index.
The latest index, released Wednesday, shows an uptick of 1.8% between March and April. After adjusting for seasonal effects, the index remained "relatively stable," dipping only 0.1%.
This is the second consecutive month in which the index has stabilized. From February to March, it edged up 0.5% (before seasonal adjustments) marking the first increase in 10 months.
This signifies that Canada's real estate slump is widely coming to an end. Earlier this week, the Canadian Real Estate Association (CREA) released data to a similar tune, reporting that the Aggregate Composite MLS Home Price Index was up 1.6% month over month in April -- a large increase for a single month -- with monthly price gains reported in the majority of local markets.
Shaun Cathcart, Senior Economist for CREA, attributes the uptick in prices to the return of sidelined buyers. He adds that "sluggish" supply also plays a role in the price gains observed all over the country.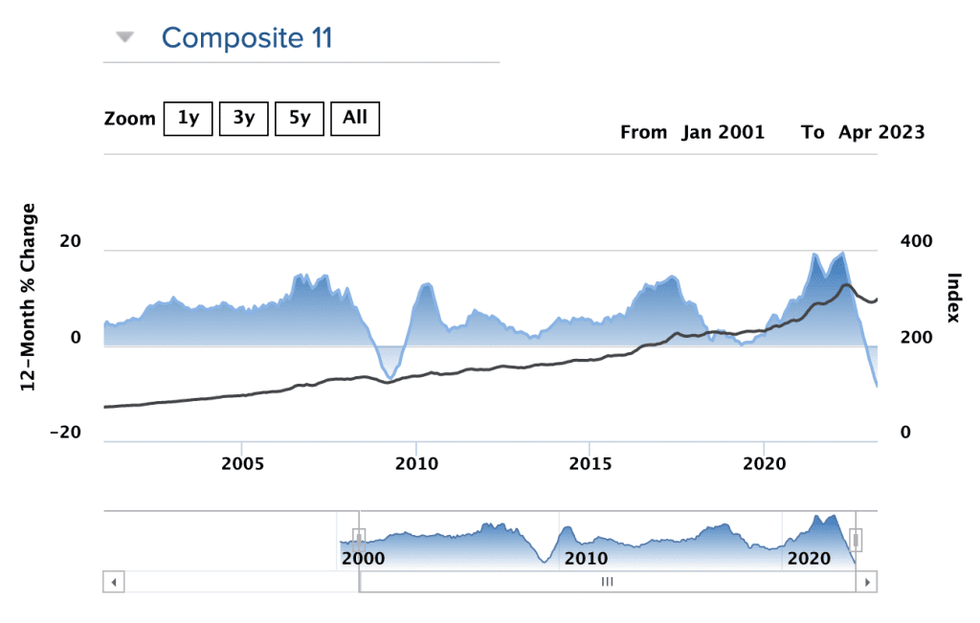 Teranet and National Bank of Canada
Month over month, five of the 11 CMAs examined by Teranet reported price growth in April, including Quebec City (up 1.2%), Toronto (up 0.7%), Winnipeg (up 0.5%), Calgary (up 0.3%), and Victoria (up 0.1%).
Although not included in the composite index, notable price increases were also observed in Moncton and Peterborough, up 5.9% and 4.5%, respectively.
Conversely, prices contracted in five CMAs included in the index, dropping 2.5% in Edmonton, 2.1% in Ottawa-Gatineau, 0.9% in Vancouver, 0.5% in Hamilton, and 0.2% in Montreal.
Additionally, 12 of the 20 CMAs not included in the index experienced price declines, with the most notable of the bunch being Thunder Bay (down 12.8% after a 17.9% increase the previous month) and Kingston (down 11.1%).
Prices remained stable in Halifax.
Year over year, the national index slipped 8.5% -- "a record annual contraction" -- with price gains recorded in only two of the 11 cities considered in the composite: Calgary, up 6.9%, and Quebec City, up 2.7%. Prices also edged up in five markets not included in the composite, including Trois-Rivières (up 14.3%) and Sherbrooke (up 8.4%).
Though annual price drops were significant in Hamilton (down 14.8%), Toronto (down 12.2%), and Ottawa-Gatineau (down 9.7%), the steepest declines were recorded in markets not considered in the composite, including Abbotsford-Mission (down 22.0%), Guelph (down 18.4%), and London (down 17.7%).
Real Estate News